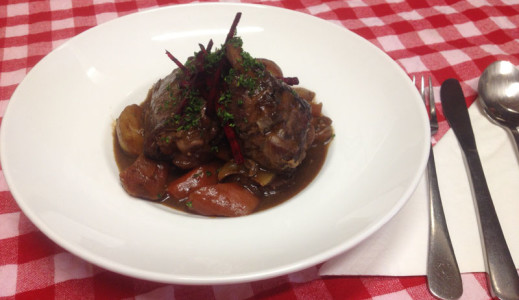 Coq au vin is a traditional French food dish of chicken braised with wine, lardons, mushrooms, and optionally garlic. While the wine used is typically Burgundy, many regions of France have variants of coq au vin using the local wine, such as coq au vin jaune (Jura), coq au Riesling (Alsace), coq au pourpre or coq au violet (Beaujolais nouveau), coq au Champagne, etc.
History of the Dish
Various legends trace coq au vin to ancient Gaul and Julius Caesar, but the recipe was not documented until the early 20th century; it is generally accepted that it existed as a rustic dish long before that. A somewhat similar recipe, poulet au vin blanc, appeared in an 1864 cookbook.
Julia Child featured coq au vin in her breakthrough 1961 cookbook Mastering the Art of French Cooking, and she frequently prepared it on the PBS cooking show The French Chef. This exposure helped to increase the visibility and popularity of the dish in the United States, and coq au vin was seen as one of Child's signature dishes.
[
quoted from Wikipedia: http://en.wikipedia.org/wiki/Coq_au_vin
]